Come be a Viking Today! SOC window closes July 29th. Open grades are minimum of one in 3rd, 6th, 7th, 9th, 10th, and 11th and Alternative Education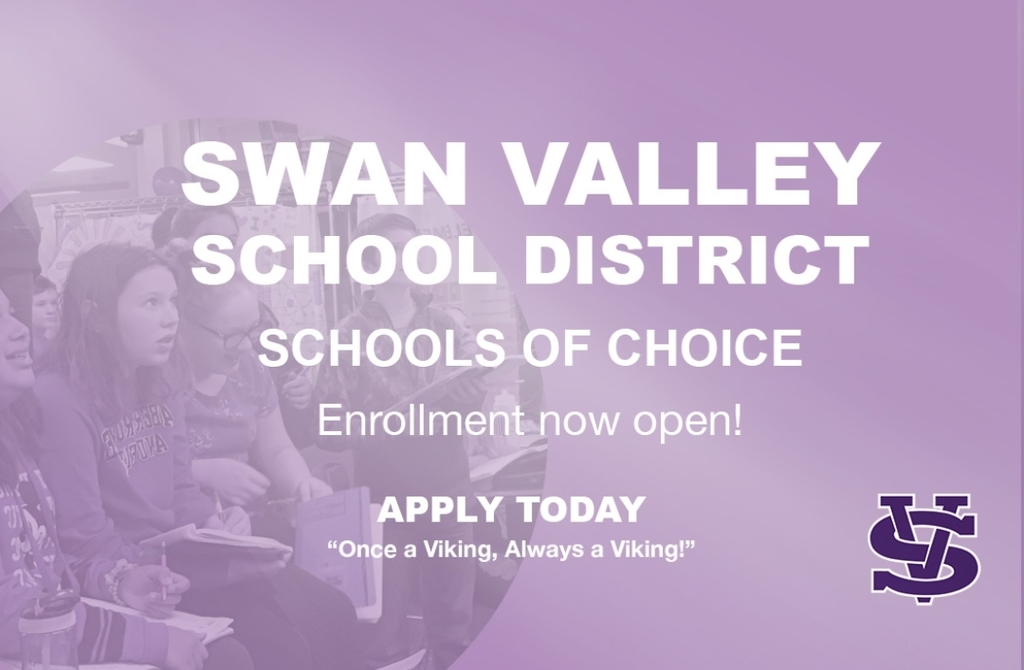 Bus Drivers Wanted. Come join our team!
Come join our team today!
Thank you for 30 amazing years, Mrs. Pieske. Once a Viking, Always a Viking!!
Swan Valley School District families & community, Many of you have received your absentee ballots for the August 3 election in the mail. If you would like to know more about the Bond Proposal, please visit the following website: svsd-bond.com. Thank you
Are you interested in learning more about the Swan Valley School District bond proposal on the August 3rd, 2021 ballot? If so, check out the details and take a virtual tour of our existing facilities by watching this video!
https://vimeo.com/559972068
Students who participated in the first-dose vaccination clinics at SVSU in April, this is a brief reminder that second-dose vaccination clinics will be held on Monday, May 10th and Wednesday, May 12th, 10:00 a.m. to 6:00 p.m. Students will need to arrive at the same time they did for their first dose, and they will also need to bring the vaccination card that was issued to them.
SCHOOLS OF CHOICE WILL BE OPEN MAY 3, 2021 THROUGH MAY 28, 2021. SVSD WILL SELECT A MINIMUM OF ONE APPLICANT IN 3rd, 6th, 7th, 9th THROUGH 12th and Alt Ed. THE ACCEPT AND DENIAL LETTERS WILL BE SENT ON JUNE 11, 2021. SCHOOLS OF CHOICE FORM
Blood Drive @ Swan Valley High School Email Mrs. Ray for an appointment!
tray2@svsd.us
2021 Swan Valley Distinguished Alumni The Swan Valley High School Class of 2021 is asking your help in getting out the word on a program designed to honor one of Swan Valley's outstanding graduates. Though time is very short, we would like to name our 24th annual honoree at this year's graduation exercise on June 7, 2021. Distinguished Alumni Program Criteria:
https://5il.co/qyyf
Nomination Form:
https://5il.co/qyyg
If the #Covid19 pandemic has left you without a job, and you are struggling to find work because you lack a high school diploma or industry training, Swan Valley Adult Education program can help you get the skills you need for a new job – one you can support a family on. Contact us today to learn how to register!
https://www.swanvalleyschools.com/o/svaac
#MoveAheadwithAdultEd
Interested in random trivia and want to hang out with friends? Join Quiz Bowl! The first meeting will take place on 3/8 after school until 3:15. We will meet in my room (306) or, based on numbers, we may have to meet in the cafeteria. See Mr. Quellet for details or email him at
mquelle@swanvalley.k12.mi.us
On Monday, December 21st at 3pm, the Delta College Financial Aid Office is hosting a live, interactive webinar to help students learn about FAFSA and the best steps to completing it. We are asking for you to please share this information with your students, especially high school seniors who plan on attending any college next fall. The students need to register for the event to receive the Zoom link. Register for 12/21 FAFSA Webinar here:
https://delta.elluciancrmrecruit.com/Apply/Events/EventDetails?eventId=5e107269-bd38-eb11-a976-fdebe9460aec
If you have any questions about the webinar, you may contact the Delta College Financial Aid Office at
finaid@delta.edu
or 989-686-9080. Sincerely, Elvina Sika Assistant Director of Financial Aid Delta College | 989-686-9553 | Fax 989-667-2202 D101 | 1961 Delta Road, University Center, MI 48710
Enroll Today for Adult Education! Ages 22 and above. Check out our website for Future Frontliners to see if you qualify for a free college tuition or skilled trades certification.
Congratulations to our Lady Vikes! 2020 Volleyball District Champs!
Swan Valley Adult Education has EXCITING NEWS!!! Tuition-free pathways for essential workers. Did you work in a hospital, grocery store, sanitation or police department, or other essential industry this spring? If so, you may be eligible to return to school tuition-free, either full- or part time, while you work. Futures for Frontliners offers free tuition & services for those who worked essential jobs April – June 2020. Haven't completed high school? The program also supports adults who do not yet have a high school diploma. Individuals will be offered adult education services before or while they are enrolled in postsecondary education or training right here at Swan Valley Adult Education. Contact Shelley Hanson @ 989-921-2472 or email
shanson@swanvalley.k12.mi.us
Better late than never! Our alternative education students are working on Google Applied Digital Skills projects from a grant we received in March for #DLDay. Every day can be Digital Learning Day if you use #AppliedDigitalSkills. Our first lesson was about Managing your Time with Google Sheets! Excited to see what's coming next week! We are grateful to @ALALibrary and @GoogleForEdu for the grant!
Viking Nation: Today is HOMECOMING 2020! We will be promoting our Homecoming festivities LIVE on our District Facebook page from 3:00pm - 5:00pm. Wear your purple and watch the Homecoming Court Robing Ceremony, Parade and Crowing of the 2020 Homecoming Queen and King. "Once a Viking, Always a Viking!"
Missed last week's reading of Escape from Mr. Lemoncello's Library? No problem! Check out the recording in our Schoology Group with Access Code: B38R-S2Q9-Z3VD6 Ready to join us on tonight (Thursday) at 8pm? Fill out this link and the Zoom information will be sent to you!
https://forms.gle/TdvYTZQaF2ep4znp6