News
For those of you planning vacations for he next school year, the following are dates for the winter and spring vacations. Dec. 21 2020- Jan. 1, 2021 Mar. 29,...
Happy 100th Day of School from Mrs. Todd's class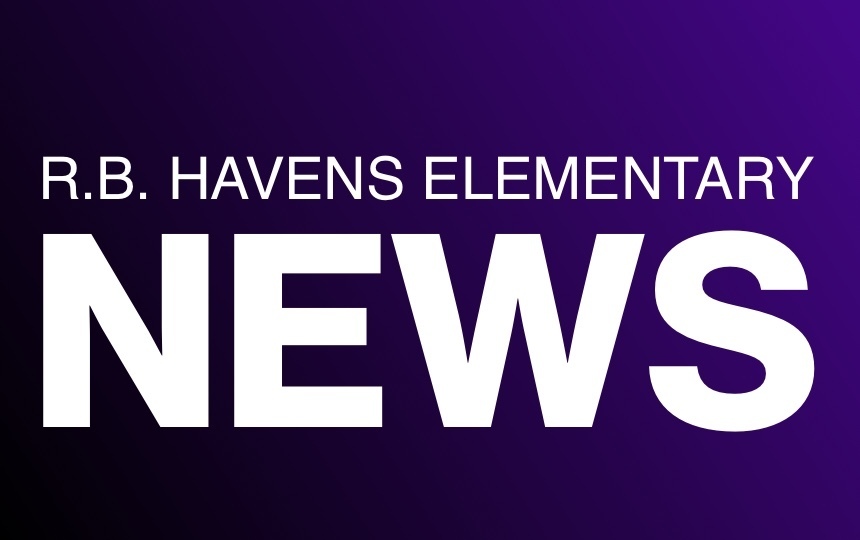 Robert B. Havens Elementary Mission Statement At R.B. Havens Elementary, we are a community of leaders. We honor and celebrate the leaders within us. WE…. Lead...
SEE ALL NEWS
LIVE FEED

Shelly DuRussel
about 1 month ago
Dear Parents/Guardians ,
I am excited to share that our 3rd and 4th graders will be getting brand new IPADs.  Our plan was to roll those out when the students returned to school. Since that has been delayed, we are opting to provide some times for you to be able to still acquire those devices.  
The following days and times pickup will be available at the High School: 
Monday, November 30  -  2 p.m. – 4 p.m.   
Tuesday, December 1 -  11:30 a.m. - 1:00 p.m. or 5:00-6:30    
Wednesday, December 2  - 7:30 a.m. - 9:00 a.m.   
Please note that it is important, if you choose to pick up the new device, that you bring your child's current IPAD, cord, and brick in exchange for his/her new device.  
Also please note, you do not have to exchange your child's IPAD at this time.  
We will distribute any of the IPADS that haven't been picked up upon our return to in-person school. 
Additionally, if you need to exchange your child's IPAD because he/she is experiencing difficulties with it, but the times listed above do not work for you, please reach out next week to schedule an appointment. 
Please let us know if you have any questions. 
Have a wonderful Thanksgiving Break. 
Gina Canaday
2 months ago
Good Afternoon Havens' Families! As mentioned, in a previous message, the Swan Valley School District will be fully remote from 11/13/20-11/29/20. If you would like to still get a free breakfast/lunch for your student, please fill out the Saginaw Township Lunch Form below - once per child at Havens. Lunch pick up is at the SV High School on Tuesdays and Thursdays - 11:00am-1:00pm *or* 4:00pm-6:00pm. Thank you and stay safe!! https://bit.ly/3gp8IDm


Shelly DuRussel
2 months ago
It is that time of year where we reach out to see who may need some help or are willing to help during the upcoming holidays. Please fill out the google form. https://forms.gle/8JNEJceFmoywgZXD6 Thank you.
You are all in our thoughts right now. Please reach out if you have any questions. 921-4201

Shelly DuRussel
3 months ago
Dear Parents/Guardians,
Starting Monday, November 2, students at both Havens and Shields will be required to wear masks during t he day at all times, except while eating.
Thank you for your continued support, patience, and understanding.
Shelley Hanson
4 months ago
Viking Nation: Today is HOMECOMING 2020! We will be promoting our Homecoming festivities LIVE on our District Facebook page from 3:00pm - 5:00pm. Wear your purple and watch the Homecoming Court Robing Ceremony, Parade and Crowing of the 2020 Homecoming Queen and King. "Once a Viking, Always a Viking!"
SEE ALL POSTS