The Swan Valley softball coaches and players are excited to announce a Softball Skills & Drills camp coming in March. Learning proper skills and techniques at an early age is so important in the game of softball. We are excited to meet your daughters and help them grow in their love of the game! Please see attached flyer for more information. You can register using this link:
https://forms.gle/Pqd6oQyYRPVUoXPv7
and payment will be taken at the door on the first night of camp. Be sure to save the date! Questions can be directed to: Tom Kennelly at (989) 928-8055.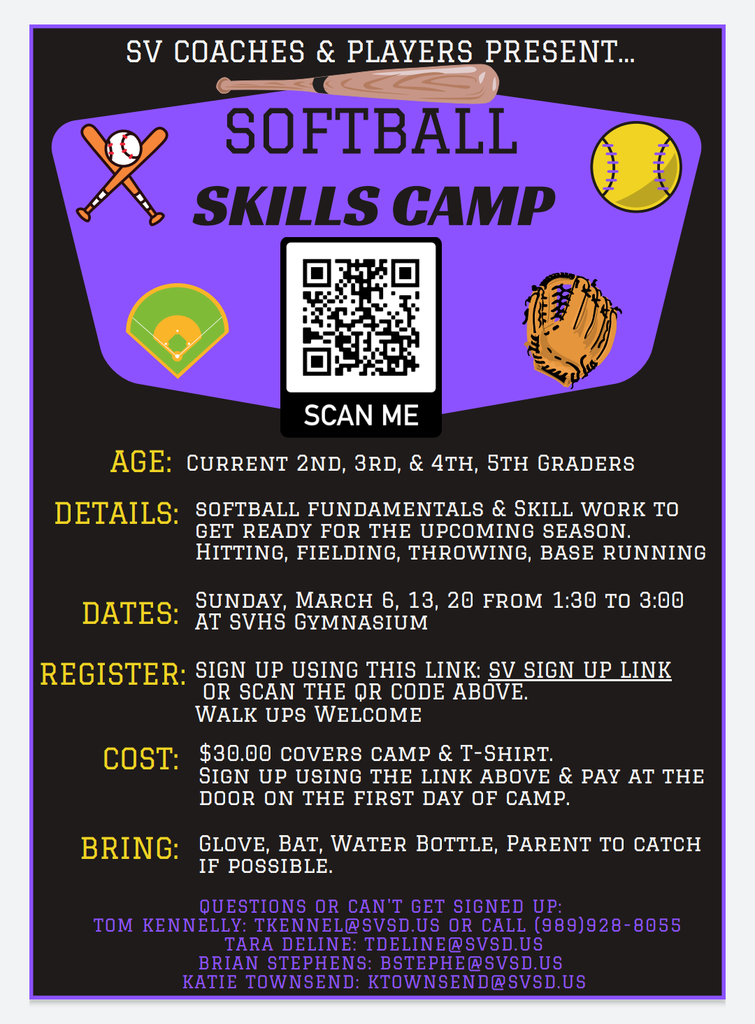 Dear Shields Families, This is just a reminder that starting tomorrow, the rest of the days this week are half days. We dismiss at 11:40. Shuttle/Orange Bus parents, remember the bus will be dropping students off by the Viking Country sign by the football field for the rest of the week. The Scholastic Book Fair is up and running and ready to welcome you all!! Lastly, I look forward to seeing you all at Parent Teacher Conferences over the course of the next couple days. Remember masks are mandatory inside the building!! See you soon, Mr. Jennings

Happy Thanksgiving Shields Families!! Attached is the link for our annual Giving Tree. You can read the instructions either in the Google Form itself or you can check your email as an email was sent out earlier!!
https://forms.gle/pgbFKJ72zkngnNJb9
If you have already sent in monetary donations, those donations will go towards items for these families as well!!! Thank you for your support during the Holiday Season!! Everyone Stay Safe and Happy Thanksgiving!! Mr. Jennings

Shields Picture Retake Day is tomorrow! Lifetouch will be here in the morning. They will be leaving as soon as we have all known students who are getting their pictures retaken done. (Usually by mid-morning they are gone.) Please let your teacher and/or the office know if your child is getting retakes, as we are not provided with a list of students. Have a great day!!

Shields Can Drive Alert!!!! We are doing great!! However.... We just added one more family that we want to help!!!! Any child that brings in 1 or more cans (or dry food item) tomorrow (FRIDAY) can wear PJs!!!! (If you have already raided your pantry and brought some items in, feel free to wear PJs as well, but we'll never say no to more items!!!!) Thank you for helping and taking great care of members in our community!!!

Good Afternoon Parents/Guardians, This note is just to remind families that we are holding a canned food drive this week!! We are hoping to get enough food items to help a handful of local families who could use a little extra support this holiday season. If you could use a little extra support for the holidays or would like to let us know that you can be counted on to help out in providing a little support, please check out this link!!
https://forms.gle/ccFEAt5Td4eExiai6
If you are in need of support, please try to fill out the survey by the end of this week!! I look forward to hearing from you and seeing lots of cans and dry foods coming our way this week!!!!! Have a great Monday!!! Leland Jennings
Swan Valley School District Winter Coat Drive
Please join us and mark your calendars for the 2021 Swan Valley HOMECOMING Friday, September 24, 2021 Parade begins at 4:00 PM Football Game starts at 7:00 PM against Alma Saturday, September 25, 2021 Homecoming Dance 7:00 PM-10:00 PM Attached is the PARADE ENTRY FORM:
https://5il.co/yoaz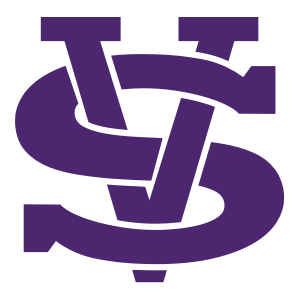 Swan Valley Pay It Forward Annual Member Sign Up Meeting Sunday, September 12, 2021 @ 5:00 PM SV Banquet Center For More Information please review the attached link:
https://5il.co/xw50

Band students hoping for a new auditorium. Don't forget to vote TODAY. Polls open at 7:00 am and close at 8:00 pm.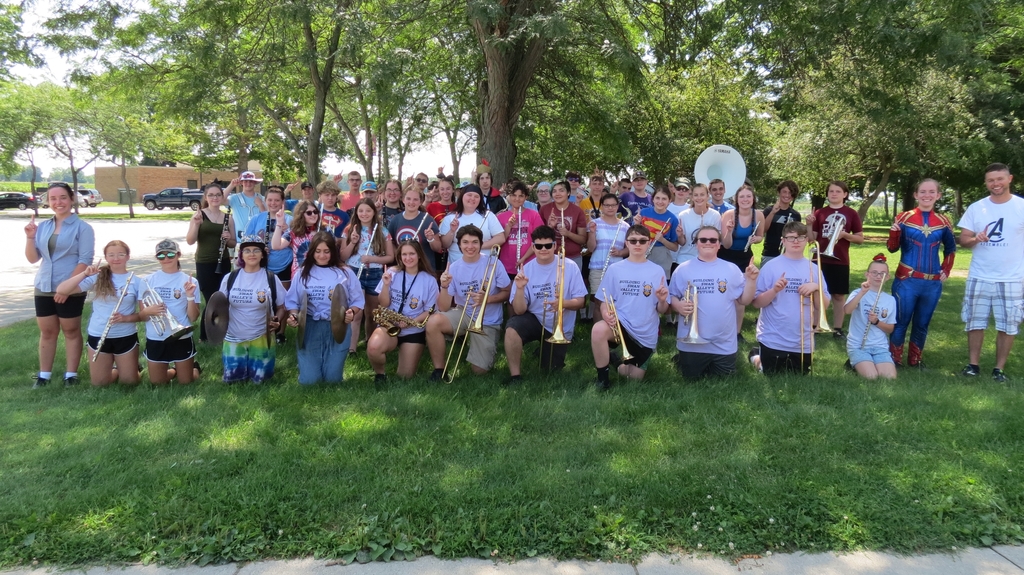 Want to learn more about the Swan Valley School District bond proposal on the August 3, 2021 ballot? Watch this video to hear from Superintendent Mat McRae to learn more.
https://bit.ly/36VlO8Q
Please remember to vote this Tuesday!
Class of 2037! Please remember to vote one week from today, August 3rd!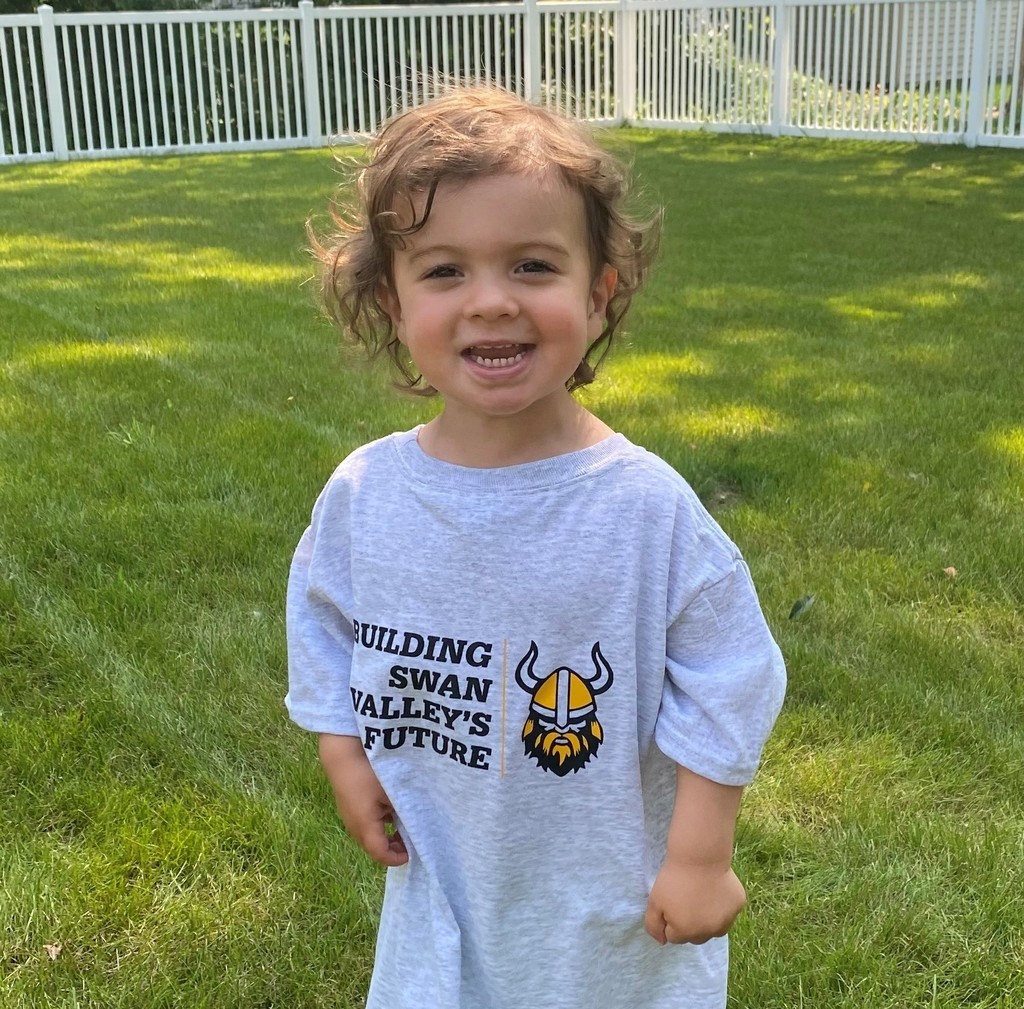 Bus Drivers Wanted. Come join our team!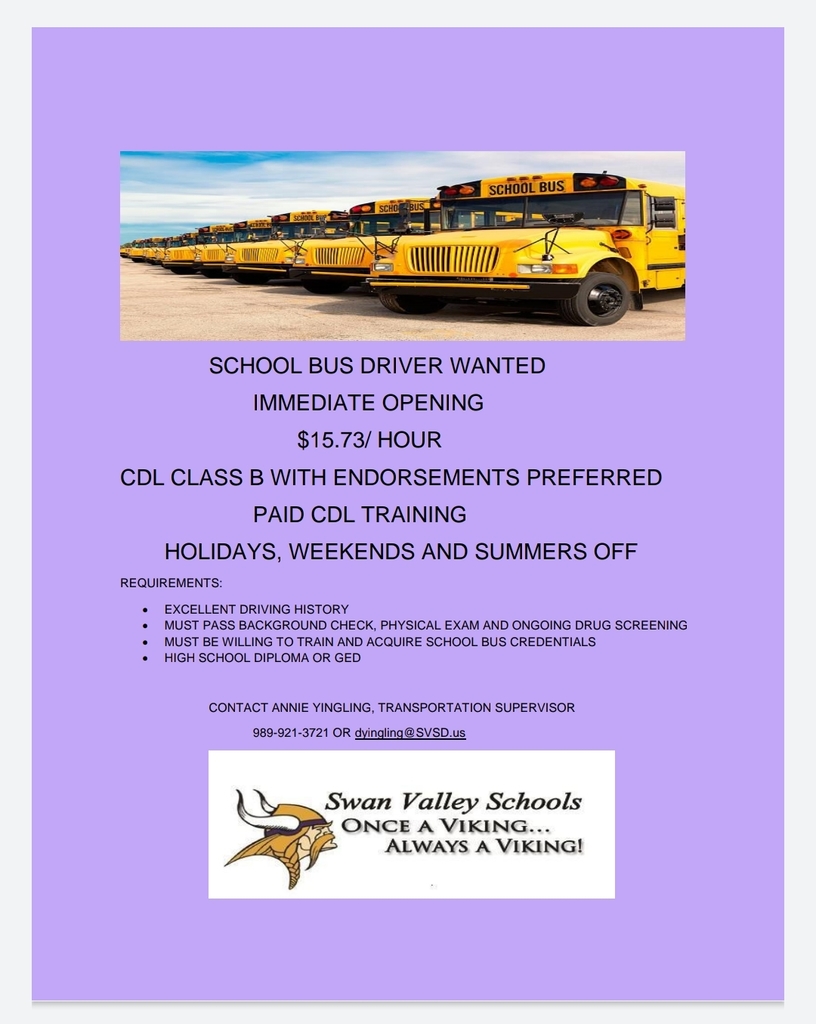 Come join our team today!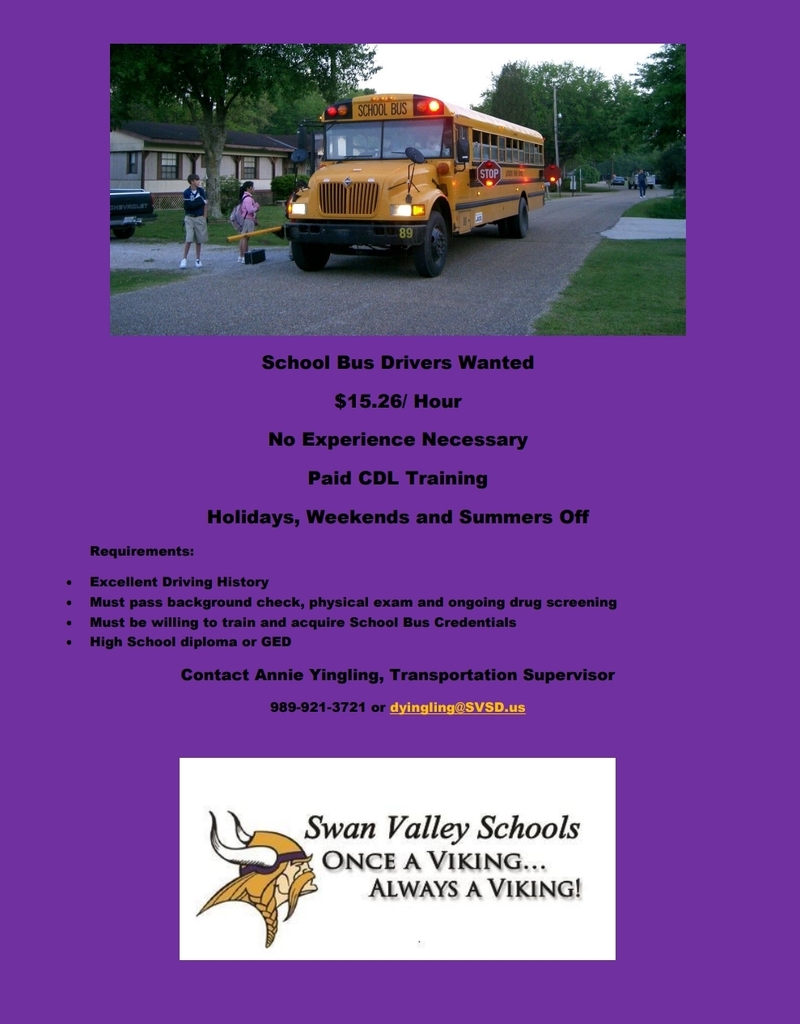 Swan Valley School District families & community, Many of you have received your absentee ballots for the August 3 election in the mail. If you would like to know more about the Bond Proposal, please visit the following website: svsd-bond.com. Thank you
Are you interested in learning more about the Swan Valley School District bond proposal on the August 3rd, 2021 ballot? If so, check out the details and take a virtual tour of our existing facilities by watching this video!
https://vimeo.com/559972068

Just a reminder that we have school in-person on Wednesday , June 9th. Last week was our last virtual Wednesday. I look forward to seeing everyone here!!!!