Blood Drive @ Swan Valley High School Email Mrs. Ray for an appointment!
tray2@svsd.us
2021 Swan Valley Distinguished Alumni The Swan Valley High School Class of 2021 is asking your help in getting out the word on a program designed to honor one of Swan Valley's outstanding graduates. Though time is very short, we would like to name our 24th annual honoree at this year's graduation exercise on June 7, 2021. Distinguished Alumni Program Criteria:
https://5il.co/qyyf
Nomination Form:
https://5il.co/qyyg

Dear Parents/Guardians , I am excited to share that our 3rd and 4th graders will be getting brand new IPADs.  Our plan was to roll those out when the students returned to school. Since that has been delayed, we are opting to provide some times for you to be able to still acquire those devices.   The following days and times pickup will be available at the High School:  Monday, November 30  -  2 p.m. – 4 p.m.    Tuesday, December 1 -  11:30 a.m. - 1:00 p.m. or 5:00-6:30     Wednesday, December 2  - 7:30 a.m. - 9:00 a.m.    Please note that it is important, if you choose to pick up the new device, that you bring your child's current IPAD, cord, and brick in exchange for his/her new device.   Also please note, you do not have to exchange your child's IPAD at this time.   We will distribute any of the IPADS that haven't been picked up upon our return to in-person school.  Additionally, if you need to exchange your child's IPAD because he/she is experiencing difficulties with it, but the times listed above do not work for you, please reach out next week to schedule an appointment.  Please let us know if you have any questions.  Have a wonderful Thanksgiving Break. 

Good Afternoon Havens' Families! As mentioned, in a previous message, the Swan Valley School District will be fully remote from 11/13/20-11/29/20. If you would like to still get a free breakfast/lunch for your student, please fill out the Saginaw Township Lunch Form below - once per child at Havens. Lunch pick up is at the SV High School on Tuesdays and Thursdays - 11:00am-1:00pm *or* 4:00pm-6:00pm. Thank you and stay safe!!
https://bit.ly/3gp8IDm

It is that time of year where we reach out to see who may need some help or are willing to help during the upcoming holidays. Please fill out the google form.
https://forms.gle/8JNEJceFmoywgZXD6
Thank you. You are all in our thoughts right now. Please reach out if you have any questions. 921-4201

Dear Parents/Guardians, Starting Monday, November 2, students at both Havens and Shields will be required to wear masks during t he day at all times, except while eating. Thank you for your continued support, patience, and understanding.
Viking Nation: Today is HOMECOMING 2020! We will be promoting our Homecoming festivities LIVE on our District Facebook page from 3:00pm - 5:00pm. Wear your purple and watch the Homecoming Court Robing Ceremony, Parade and Crowing of the 2020 Homecoming Queen and King. "Once a Viking, Always a Viking!"

Dear Swan Valley families, We are writing to update you on the recent change in regards to masks for elementary students. The Governor recently put forth an EO that states that beginning October 5th elementary students will have to wear masks in the classroom not just upon entry, dismissal, and in common areas. Therefore beginning October 5th our SV elementary students will be required to wear them within their classrooms as well. Students will not be required to wear them when we are outdoors for recess. The link to the EO can be found here :
https://bit.ly/2GdT1Cm

Dear Parents/Guardians, As noted in the communication that came out from the District, for the first trimester, we are going to go remote on most Wednesdays. (October 7th and October 14th we will be in person.) The first trimester goes through November 20th. We have developed a plan that will help those elementary families who CANNOT find other supervision for their children on that day. If you do not have another option, we will provide a supervised location for a limited number of elementary students on those days. For families who choose to take advantage of this opportunity, school breakfast and lunch will be available. However, students can also bring their own cold lunches. Childcare will be provided at either the High School or Middle School based on the number of participants for Shields and Havens students. The supervision would take place during the hours of the student's regular school day. Havens students will be supervised from 8:10-3:20. Shields students will be supervised from 8:15-3:30. Any significant adjustments to bus pick up or drop-off times will be communicated to those participating. It is important to note that once a bus selection has been made, it must remain the same for the trimester. These selections must be to bus stops that already exist. However, if a family wants to pick up a student who normally rides a bus, that needs only to be communicated before 3:00 to the school where the student is being supervised. ***Please NOTE: This privilege can be revoked if repeated behavioral issues occur. ***These Wednesday changes do not apply for October 7th or October 14th (remote days those weeks instead will be on October 8th and 15th and this same opportunity will be available). Students that are currently in person students will attend school face to face for those two Wednesdays. We hope that this child care opportunity helps to alleviate some of the stress that may have been placed on families from the change in schedule for students. We appreciate your continued support as we try to best meet all of our students' needs. Once we have the survey data, additional information will be sent to the families opting for the school provided supervision.
https://forms.gle/ZaS7K4erXQPjT4zw6
This survey MUST be completed by 1:00 PM Friday, September 18. Leland Jennings Shields Principal Shelly DuRussel Havens Principal

Havens Picture Day has been rescheduled for Tuesday, October 6th. Order @ mylifetouch.com Picture Day ID: XX6KNZTVE

Hello from Havens. It's hard to believe August is right around the corner. To say this has been a crazy last few months would probably be an understatement. I want to remind everyone that next week the district will be posting the K-12 Swan Valley Return to Learn Plan. After that plan goes out you will have time to look it over and then feel free to reach out to your building administrators if you have specific questions. Additionally, there will be a survey sent for parents/guardians to select the Instruction options that your family chooses based on the School/District Plan. We appreciate your support. A reminder that each building utilizes the website along with the SV app for communicating information. Each building also has an official school Facebook page. There has been a lot of unofficial discussion and communication that may have caused families confusion and I appreciate that some of you have reached out for clarification. We are committed to providing our students and families the best education we can while also balancing all of the many requirements within the Michigan Department of Education Roadmap. Your support and understanding is a crucial part. For your convenience, I have added the link to the app (for the Apple store, but it is available in the Google Store as well), link to the Swan Valley Schools Webpage and links for the Elementary Facebook sites. We look forward to working with your students this coming year. Swan Valley App link
https://apps.apple.com/us/app/swan-valley-school-district-mi/id1490469905
Swan Valley Webpage
https://www.swanvalleyschools.com/o/rbhe
Robert B. Havens Facebook
https://www.facebook.com/RBHavenselem
Shields Elementary Facebook
https://www.facebook.com/shieldselementary.svsd
Roadmap -
https://www.michigan.gov/documents/whitmer/MI_Safe_Schools_Roadmap_FINAL_695392_7.pdf
Mrs. DuRussel
Parents, Please check your email for our next survey on our Continuity of Learning Plan. If you did not receive a survey sent through our Skyward message center please send an email request to
shanson@swanvalley.k12.mi.us
Deadline to Submit is Friday, June 19th @ 4:00 PM.



Just a reminder tomorrow is the pick up/ drop off at Havens Elementary. We ask that at that time you return any library books, text books, or safety patrol belts. We ask that you place those items in a bag with your student's name and grade on it.  We will be utilizing the drop off area out front and you will pull up we will hand you your child's things (such as the items that may have been left behind and his/her spring pictures) and you can hand us the bagged items you are returning. Many staff members will be at Havens to greet and say goodbye to students and families. The pick up/drop off schedule is as follows:    3rd grade 10:30-11:30  4th grade 11:30-12:30  5th grade 12:30-1:30  Any grade level from 5:00-6:00 p.m. If you have multiple students at Havens you can pick one time to get both students taken care of. i.e. if you have a 3rd grader and a 5th grader you can choose to either come at the 3rd grade time slot or the 5th grade and ask for both students' items.  If you are unable to stop by the school at the designated time please contact the office to set up a time/day for after the 3rd.  A reminder the last day of school is June 5th. 

A reminder meal distribution will continue to take place at the high school from 11-2 every Monday, Wednesday, and Friday.



Please look at the flyer. We have a special fundraiser for an SV family. Help us spread the word. Thank you.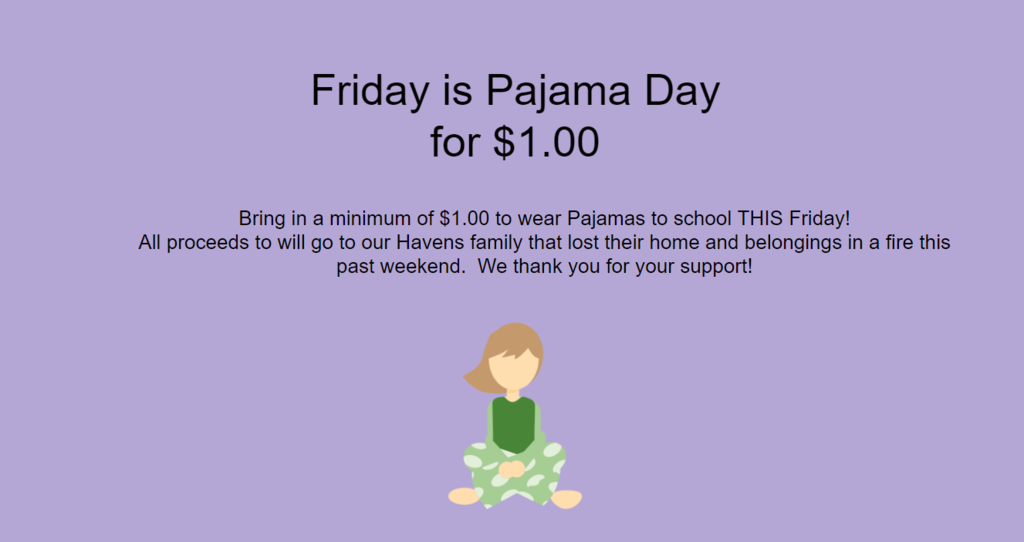 Author Maria Dismondy visited Havens today!