Swan Valley School District is hiring a Substitute Custodian. Background check required. Rate of pay is $13.15 per hour. Apply in person only at Swan Valley Administration Building 8380 O'Hern Road, Saginaw, Monday through Friday from 7:30 a.m. to 4:00 p.m.
Please join us and mark your calendars for the 2021 Swan Valley HOMECOMING Friday, September 24, 2021 Parade begins at 4:00 PM Football Game starts at 7:00 PM against Alma Saturday, September 25, 2021 Homecoming Dance 7:00 PM-10:00 PM Attached is the PARADE ENTRY FORM:
https://5il.co/yoaz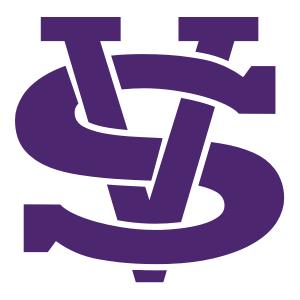 Happy Labor Day! Hope you are all enjoying this beautiful weekend. Please take a moment to check out our Havens Highlights @
https://www.smore.com/36qwn
Swan Valley Pay It Forward Annual Member Sign Up Meeting Sunday, September 12, 2021 @ 5:00 PM SV Banquet Center For More Information please review the attached link:
https://5il.co/xw50
Band students hoping for a new auditorium. Don't forget to vote TODAY. Polls open at 7:00 am and close at 8:00 pm.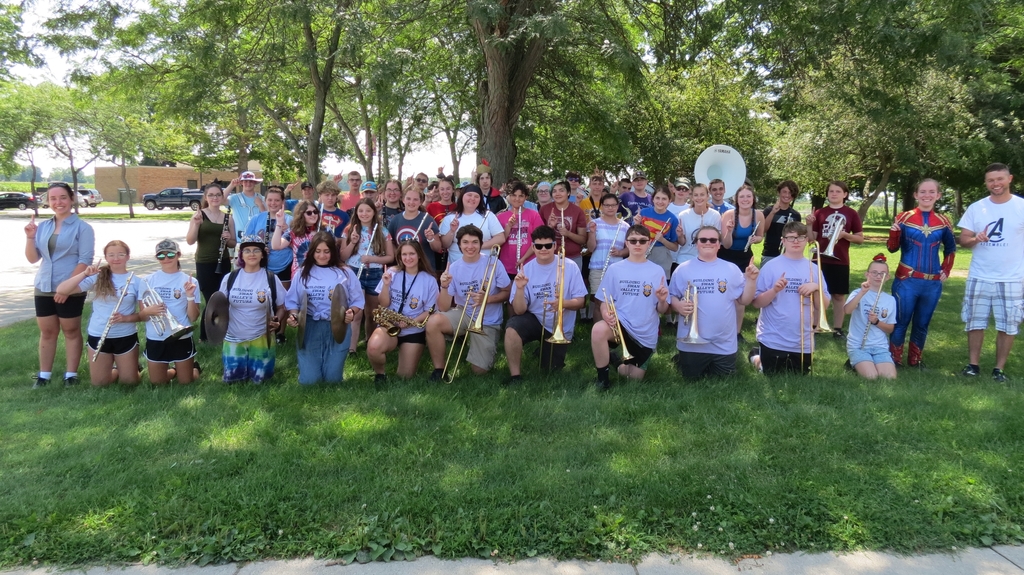 Want to learn more about the Swan Valley School District bond proposal on the August 3, 2021 ballot? Watch this video to hear from Superintendent Mat McRae to learn more.
https://bit.ly/36VlO8Q
Please remember to vote this Tuesday!

Come be a Viking Today! SOC window closes July 29th. Open grades are minimum of one in 3rd, 6th, 7th, 9th, 10th, and 11th and Alternative Education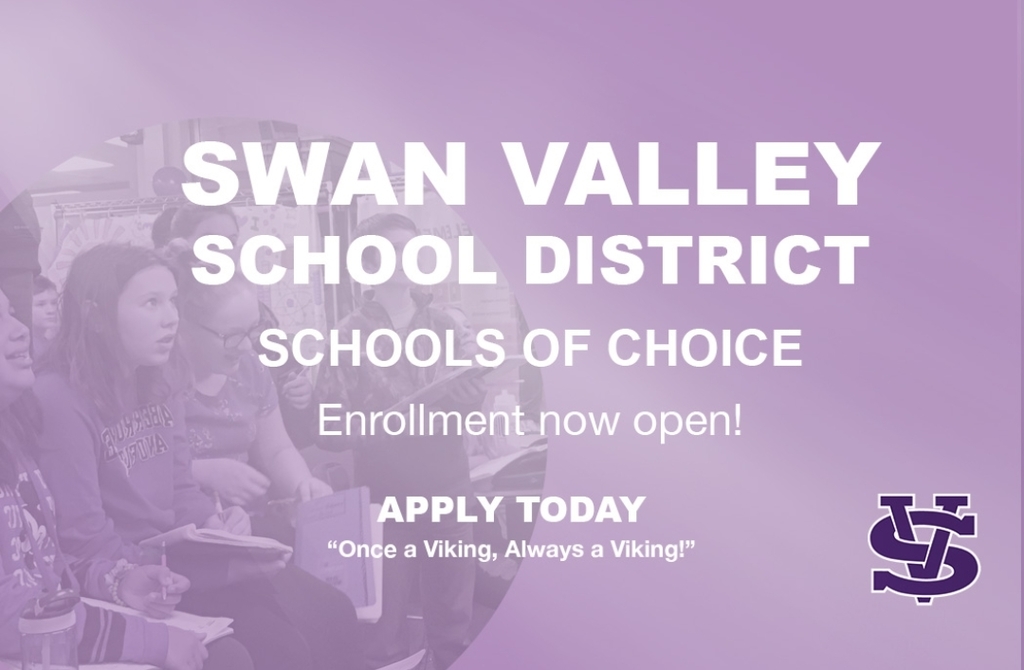 Bus Drivers Wanted. Come join our team!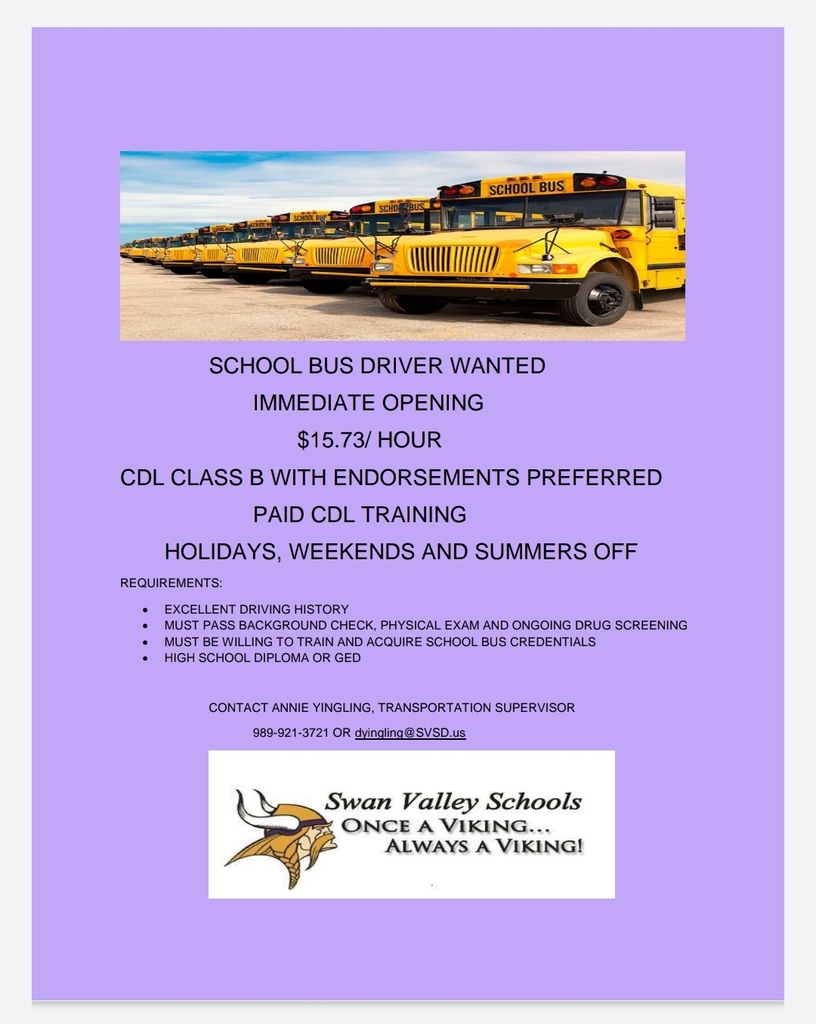 Come join our team today!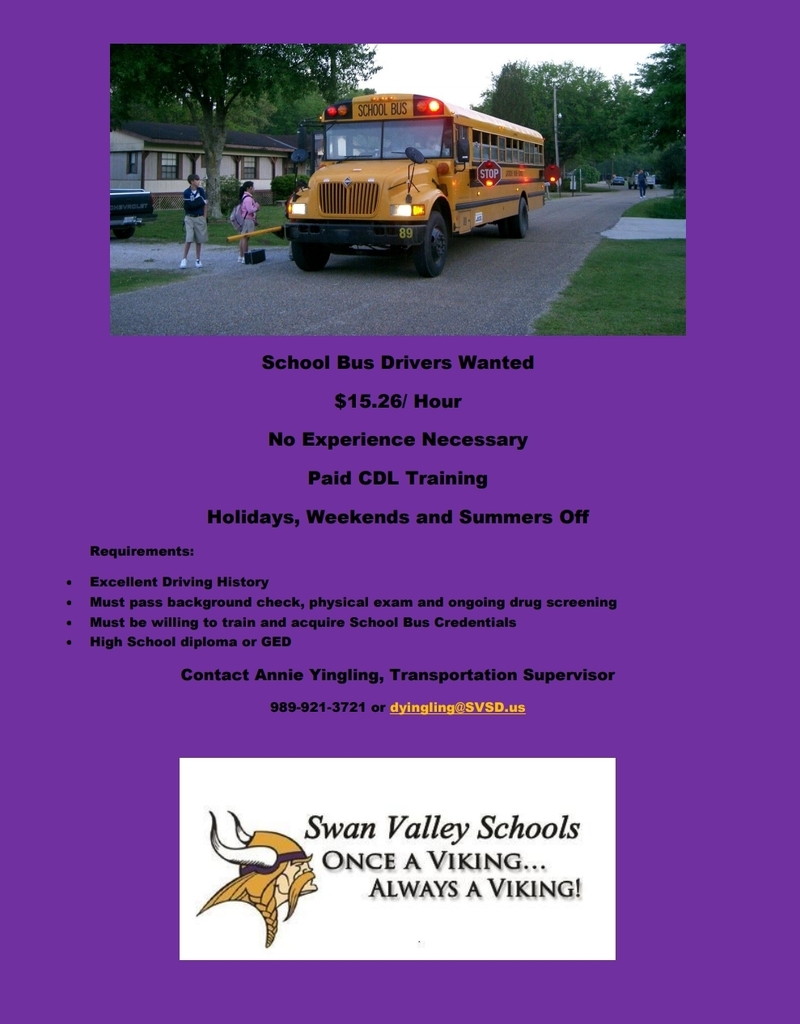 Swan Valley School District is hiring Substitute School Bus Drivers. Background check required. Will train for CDL with pay. Starting pay $15.26. Apply in person at Swan Valley Administration Building 8380 O'Hern Road, Saginaw Monday - Thursday from 7:30 a.m. to 3:30 p.m.

STEM@SVSU is partnering with MiSTEM East Central Michigan again this year in a Summer STEM Video Contest! The contest is open to all K-12 students and teachers in the Great Lakes Bay Region. It's easy - just submit your information in this Google Form and send your video to
STEM@svsu.edu
between now and July 16th. If you are under 18 years of age, be sure to have your parent/guardian fill out the form with you. At least one video will be highlighted each week throughout the summer. In your video, be sure to introduce yourself (first name only and grade level or school name). If your video is chosen, you will win an awesome STEM kit, delivered directly to your house! Videos should: - Show you completing a STEM Activity at Home - Be sent as MP4 or .MOV files to
STEM@svsu.edu
(please do not share a google file) - Be approximately 1 to 3 minutes long STEM Video Contest Link:
https://docs.google.com/forms/d/e/1FAIpQLSc01Ti_duslp8BMck4kfL11SllT8amoSFk_YiBRfQMYfioVRQ/viewform
Swan Valley School District families & community, Many of you have received your absentee ballots for the August 3 election in the mail. If you would like to know more about the Bond Proposal, please visit the following website: svsd-bond.com. Thank you
Are you interested in learning more about the Swan Valley School District bond proposal on the August 3rd, 2021 ballot? If so, check out the details and take a virtual tour of our existing facilities by watching this video!
https://vimeo.com/559972068

Good afternoon! So we have a group of students involved in a Girls on the Run Program. As a community project they are collecting items for the homeless.  The items needed are non-perishable food items, new or gently used clothing, toiletries, blankets and pillows. If you are able to donate to this cause they would greatly appreciate your support. They have collection boxes in our school at Havens.  They will be taking donations from now through next Tuesday, June 2. Every little bit helps. Thank you! 

School of Choice will be open from May 3 to 28, 2021. The open grades are 3rd, 6th, 7th, 9th through 12th and Alt Ed with a minimum of one accepted. The accept and denial letters will be sent out June 11th.
Blood Drive @ Swan Valley High School Email Mrs. Ray for an appointment!
tray2@svsd.us
2021 Swan Valley Distinguished Alumni The Swan Valley High School Class of 2021 is asking your help in getting out the word on a program designed to honor one of Swan Valley's outstanding graduates. Though time is very short, we would like to name our 24th annual honoree at this year's graduation exercise on June 7, 2021. Distinguished Alumni Program Criteria:
https://5il.co/qyyf
Nomination Form:
https://5il.co/qyyg

Dear Parents/Guardians , I am excited to share that our 3rd and 4th graders will be getting brand new IPADs.  Our plan was to roll those out when the students returned to school. Since that has been delayed, we are opting to provide some times for you to be able to still acquire those devices.   The following days and times pickup will be available at the High School:  Monday, November 30  -  2 p.m. – 4 p.m.    Tuesday, December 1 -  11:30 a.m. - 1:00 p.m. or 5:00-6:30     Wednesday, December 2  - 7:30 a.m. - 9:00 a.m.    Please note that it is important, if you choose to pick up the new device, that you bring your child's current IPAD, cord, and brick in exchange for his/her new device.   Also please note, you do not have to exchange your child's IPAD at this time.   We will distribute any of the IPADS that haven't been picked up upon our return to in-person school.  Additionally, if you need to exchange your child's IPAD because he/she is experiencing difficulties with it, but the times listed above do not work for you, please reach out next week to schedule an appointment.  Please let us know if you have any questions.  Have a wonderful Thanksgiving Break.